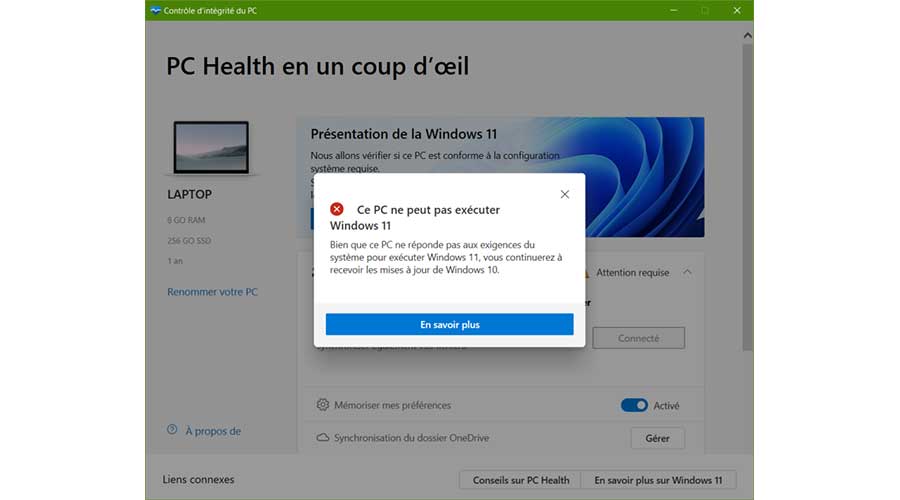 Windows 11 tip: how to check if your PC is compatible?
Microsoft has unveiled Windows 11 on August 4, 2021, the new version of its operating system that will be offered as a free update. Check today if your computer meets all the criteria using the dedicated utility put online by Microsoft.
After several weeks of waiting, Windows 11 was officially presented by Microsoft during a special event. The new operating system from the Redmond giant is more modern, more open and focuses on productivity. It benefits from a new interface whose aesthetics are more in line with current codes and introduces a number of features that should considerably improve its daily use. Windows 11, which will be offered for free as an update starting this fall, will be available for installation and testing starting next week for members of the Microsoft Insider program.
1. Download and install PC Health Check
Start by downloading the free PC Health Check utility provided by Microsoft.
Once the download is complete, run the installation file, accept the terms of the license agreement and click Install.
To make sure that your computer meets all these criteria, Microsoft has made available a utility to test your PC's eligibility for Windows 11. Here's how to use it.
When the wizard has finished installing the program, click Finish to launch it.
2. Run the test
To check if your computer meets the system requirements for Windows 11 installation, click the Check Now button.
PC Health Check should automatically display a pop-up where the test result is shown. In case your machine is not compatible, the tool does not specify the reasons.
However, it seems that Microsoft has decided not to support processors older than 3-4 years. The firm has just published on its site the list of Intel and AMD processors that will be officially compatible with Windows 11.
However, there is no indication at the moment that Microsoft's new operating system will be unable to run on slightly older configurations, perhaps with a slightly worse user experience.
Source : 01net