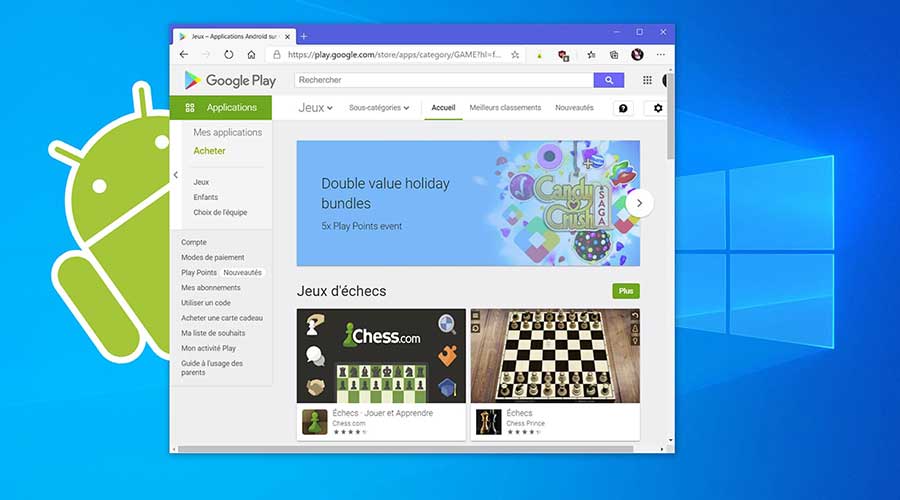 Windows 10 will be able to launch Android games and applications as early as 2021
Starting next year, Windows 10 will be able to launch Android games and applications. No more need to go through a third party application, the operating system would take care of everything.
While it is now possible to launch Android applications from Windows, it is essential to arm yourself with a third-party application such as BlueStacks. The application works quite well, but it can experience serious slowdowns depending on the configuration on which it runs. And it is not 100% compatible with the Android toy library, even though its editor has put a lot of effort into version 4 of the application.
So, of course, it is also possible to take control of an Android smartphone from your PC and drive it using the Your Phone for Windows 10 application. This makes it possible to launch applications and games from the Microsoft operating system. On the other hand, you need to have the smartphone on hand, on the one hand, and a Samsung Galaxy S on the other hand, for the experience to be truly complete. Otherwise, you can simply access the address book, reply to text messages or transfer photos. This really limits the interaction between the Windows 10 and Android ecosystem.
Android applications will be available on Windows 10 as early as next year.
But then, how can Microsoft go about offering Windows 10 users the ability to find Android games and applications that don't exist on the PC operating system? The answer may come sooner than we think. According to journalist Zac Bowden of Windows Central, a rather reliable source when it comes to Microsoft, Windows 10 will soon be able to launch Android applications. And there wouldn't be much time to wait, since this feature could arrive in 2021.
It's not known at this time how Microsoft plans to run ARM code on Intel PCs. Will it be necessary to use an emulator, or will the possibility of launching an application be directly integrated into the OS? Will it be possible to use the Play Store or an alternative store to download an application, or will it be necessary to retrieve an APK in order to install it? All these questions should be answered quickly, as Zac Bowden promises to share more information in the near future.
In any case, one can imagine that with such compatibility, the Windows library could grow exponentially (or almost). A very good thing for users. And a markdown that shows that after the Surface Duo, the first Microsoft device equipped with Android, the interest of the Redmond-based company in Google's operating system goes even further.
Source: Phonandroid