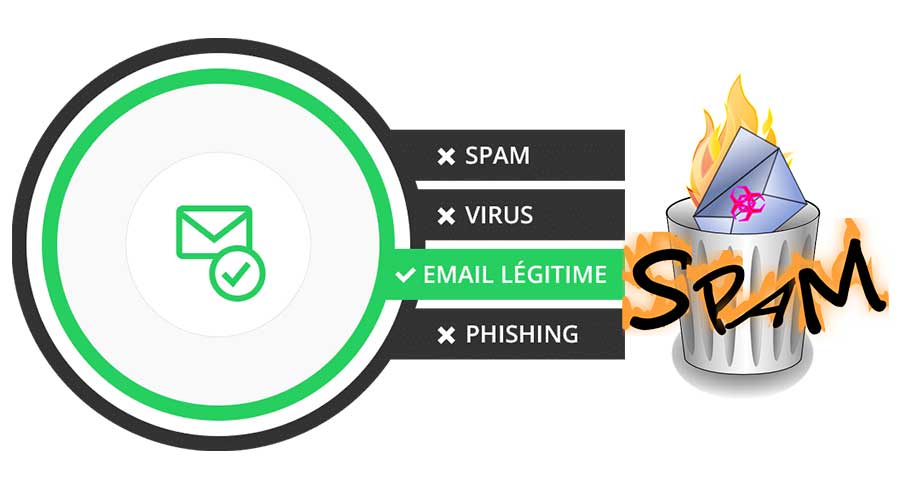 Why should you adopt an anti-spam solution?
An anti-spam solution is a computer solution designed to limit the receipt of undesirable mail that gets mixed up with important emails in the mailbox, thus wasting users' time.

It filters out advertising messages, malware and ransomware. Also, it aims to protect the computer from security threats which, in addition to being frequent on the web, are a source of stress for Internet users.


How does an anti-spam program work?



To block spam, there are two options:
- either install a quarantine system in your mailbox: when spam arrives in the recipient's mailbox, it is stored in a folder called "spam". After a certain period of time (e.g. 30 days), this folder is automatically emptied and the sender does not know that his message has been blocked;
- or install an anti-spam filter that acts like a firewall, i.e. that systematically blocks undesirable e-mails before they arrive in the inbox of Internet users. It notifies the senders of the blocking so that they either resend the message or prove that it is from an identifiable human being and not from an online mailing list.
However, it should be noted that anti-spam software can be installed in two ways :
- on the user's computer,
- on a remote server belonging to the anti-spam editor.
Some professional antispam solutions
Several antivirus programs offer e-mail protection, which includes a tool for scanning attachments. This is the case with Norton (Symantec), Bitdefender, etc. These programs usually include a free version and a paid version such as MailWasher or SpamFighter. Most e-mail accounts (Gmail, Yahoo), as well as some Internet Service Providers (ISPs) also offer anti-spam tools.