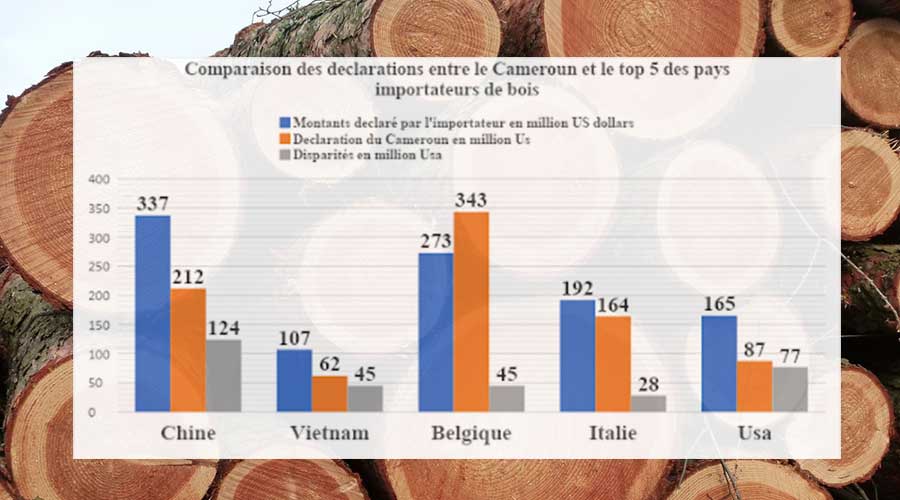 TIMBER EXPORTS: MORE THAN 173 BILLION FCFA NOT DECLARED BY CAMEROON
This is the amount not submitted by Cameroonian officials to Comtrade from 2013 to 2016 in connection with the export of timber from Cameroon to Italy, the Usa, Vietnam, China and Belgium. However, the currencies revealed by the latter are sometimes double those of Cameroon. Meanwhile, Cameroonian services have not declared anything from 2017 to 2020. When questioned, there was a blackout in Yaoundé.
Cameroon has a huge forest that is regularly the object of all kinds of covetousness. Only, this vegetation cover among the most important of the Congo Basin, 2nd tropical forest in the world after the Amazon, hides huge trafficking of all kinds from corruption, to illegal logging through massive embezzlement of currencies related to the marketing of wood. For this last case, data collected in Comtrade, a United Nations database oriented towards official international trade, shows strong disparities in currency on wood imported from Cameroon by certain Asian and Western countries.
In particular, between 2016 and 2020, the top five importing countries for goods classified under HS code 4407 (Wood sawn or butchered lengthwise, sliced or peeled, whether or not planed, sanded or end-jointed, of a thickness exceeding 6 mm) are China, Vietnam, Belgium, Italy and the United States.
However, because Cameroon has not reported trade statistics to the UN since 2017, we are unable to compare the figures reported by importing countries from 2016 to 2020 to those reported by Cameroon during the same period. Nevertheless, over the five years from 2013 to 2017, the UN data shows large disparities between the trade values declared by Cameroonian timber importers and the trade values declared by Cameroon of timber exported to these countries.
For example, during this period, China reported US$ 337,512,365 in timber imports from Cameroon, while Cameroon reported US$ 212,750,925 in timber exports to China during the same period and for the same commodity - resulting in a trade value gap of US$ 124,761,440. Over the same period, Vietnam reported US$ 107,970,358 in timber imports from Cameroon, while Cameroon reported US$ 62,397,541 in timber exports to Vietnam over the same period - resulting in a difference in trade value of US$ 45,572,817.
Italy reported US$ 192,977,190 in timber imports from Cameroon, while Cameroon reported US$ 164,492,16 in timber exports to Vietnam during the same period, resulting in a difference in trade value of US$ 28,485,021. And finally, over the same period, the United States reported US$ 165,172,494 in timber imports from Cameroon, while Cameroon reported US$ 87,842,884 in timber exports to Vietnam over the same period - resulting in a difference in trade value of US$ 77,329,610.
Explanations
More than a month after sending an access to information request, all the government agencies involved in timber and foreign trade issues, including Customs, the Ministry of Finance, and the Ministry of Forests, have not responded. Among the embassies involved, only the US embassy in Yaoundé has responded. The data made available to us for comparison comes from the U.S. Census Bureau, which gathers all the international trade figures of Uncle Sam's country. The data are not different from those of Comtrade.
This is not the first time that the media in the sub-region have seriously investigated the subject. In January 2021, the online news site Info-Congo, which specializes in environmental reporting, noted that "32 billion CFA francs of false invoicing in the illegal timber trade between Cameroon and Vietnam". The article indicates in particular a "low contribution of the forestry sector to budgetary revenues" which is explained by "corruption, illicit trade in wood, illegal cutting and false invoicing in the sector".
More seriously, in a report published in November 2020 by the Center for Environment and Development (CED) and its partner Environmental Investigation Agency (EIA), the trade with Vietnam is highly illustrative in this regard, with the key to the vast illicit forest trafficking in Cameroon. "Official records reveal that this trade is massively under-reported on the Cameroonian side," the report reveals. Indeed, "there is a significant discrepancy between the value of timber products that Cameroon reports as exported to Vietnam, and that which Vietnam reports as imported from Cameroon. This discrepancy is particularly striking for log trade. Between January 2009 and December 2017, the total gap was $420 million (US$356 million for logs and US$63 million for processed products). The value of the gap not only increased almost every year, but the proportion of the value was also falsely reported (from 36% in 2009 to 54% in 2017, with an annual average of 41%)."
By analyzing the data collected from various sources, it appears that the practice is widespread, with several countries importing wood into Cameroon regardless of the form of wood. If this can explain these sometimes very important disparities, the fact remains that the fight against this phenomenon, which remains very political and institutional, is slow to bear fruit. It is with this in mind that economists highlight four mechanisms by which bilateral disparities in trade values can occur. These are "over-invoicing of exports, under-invoicing of imports, under-invoicing of exports and over-invoicing of imports. According to Léonce Ndikumana, Professor in the Department of Economics at the University of Massachusetts Amherst and Director of the African Development Policy Program Political Economy Research Institute (PERI), "Disparities are due to deliberate misinvoicing, but they can also result from inconsistent classification of products across partners and over time, inconsistencies in the recording of the origin and destination of products, or transit trade, which can result in the recording of a different country of destination than the actual country to which goods are shipped.
Source: datacameroon.com