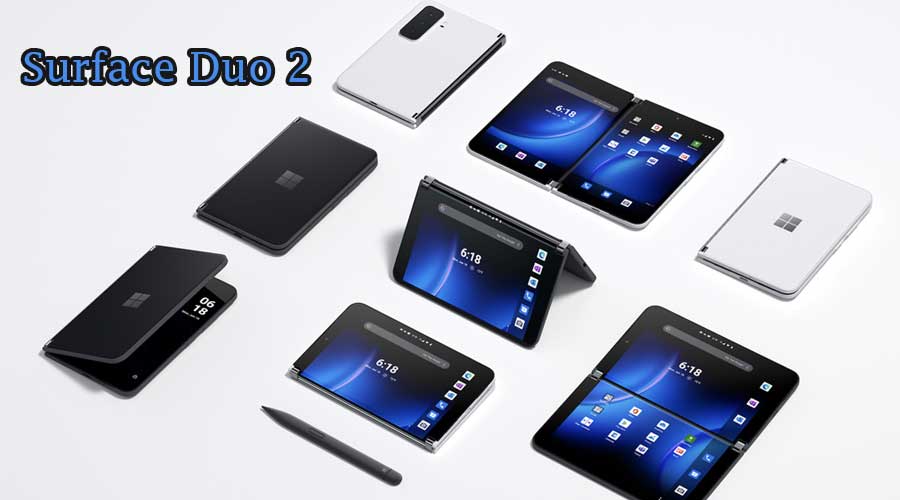 Surface Duo 2 official: here is the
Microsoft has just launched a new folding smartphone, the Surface Duo 2. It is the direct successor to the very controversial model introduced in 2019. This new generation finally uses recent components.
At its Surface conference, Microsoft presented its new folding smartphone Surface Duo 2, which comes to correct most of the big defects of the previous generation. While this one used quite old components, the new Surface Duo 2 is equipped with the Snapdragon 888 processor found in most high-end smartphones of 2021. The processor also allows it to be compatible with 5G networks.
On the design side, the smartphone still uses two different screens with an even stronger hinge in the middle. However, when unfolded, the total screen area increases to 8.3 inches, compared to 8.1 inches on the first generation. It would be protected by Corning's Gorilla Glass Victus. Microsoft also introduces a "Glance Bar", which allows you to see between the hinge the notifications and even the battery level when the smartphone is closed. For now, Microsoft has made no mention of battery capacity.
MICROSOFT IMPROVES THE PHOTO PART OF ITS FOLDABLE SMARTPHONE
While the Surface Duo only used a single 11-megapixel sensor on the back, the new generation uses three different sensors. There is a main 12 MP f/1.7 sensor as well as a second 16 MP f/2.2 ultra wide-angle sensor that would offer distortion correction. There is even a new telephoto lens of 12 MP f/2.4 that will also allow to take pictures in portrait mode. With its Surface Duo 2, Microsoft finally aligns itself with the Galaxy Z Fold3, at least on the photo part.
With its Surface Duo 2, Microsoft is focusing on productivity, since it is possible to open two applications at the same time. In the photo application, you'll also be able to use one screen to capture the scene, and display shots or options on the other. Microsoft also allows users to attach a stylus to the back of the Surface Duo 2 with magnets.
Microsoft also promises a great experience with Xbox Game Pass, as the folding smartphone will allow games to be played on one screen with virtual buttons on the second.
Unlike the first-generation Surface Duo, which took a long time to come out, the Surface Duo 2 should be available from October 21 at a price of 1599 euros. This is slightly more expensive than the previous model, which was offered from 1549 euros for the 128GB version.
Source : Phonandroid.com