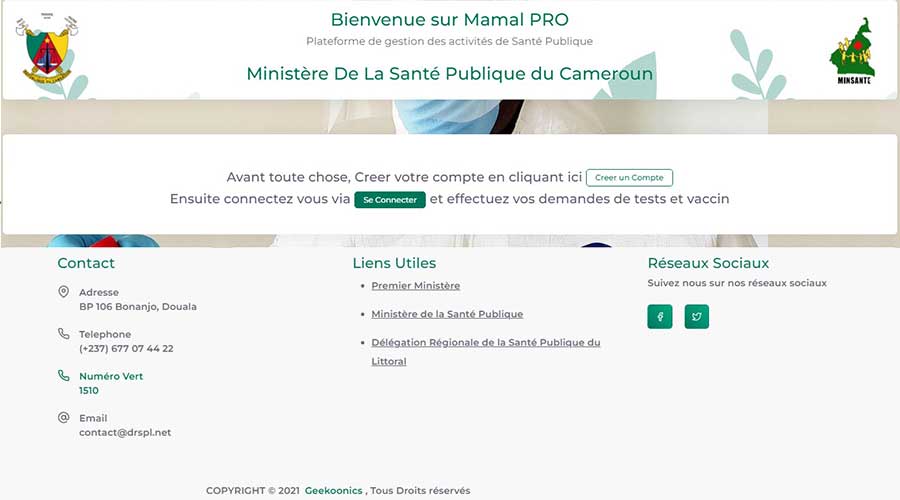 MamalPRO, the website of health pass management in Cameroon
The Cameroonian Ministry of Public Health (Minsanté) has opened a platform for the management of Public Health activities available online since the beginning of this year. This platform comes in a critical public health context imposed by Covid-19.
Between the cases of chronic deaths noticed in hospitals, the travelers who were detected in extremis at the airport, the difficulty for the State to follow the statistics of people affected by the disease has been demonstrated. The CAN 2021 Total Energies was an additional reason to launch the website, according to a post published on the official Facebook page of the Ministry of Public Health dated January 6, 2022.
Specialized in the management of tests and vaccines, the MamalPRO platform allows users to register and receive the results of their test through their personal account. Unknown to the general public, this website also helps to reduce cases of corruption and false testing. To use it, the user just needs an internet connection and a computer or a smartphone.

How does the registration work?
To register, you just need to create a user account and specify your needs (test request, vaccine request). Once registered, the user must go to the testing or vaccination center indicated in the message received. In this center, he will be tested or vaccinated according to the order of arrival. Results are available within 24 to 36 hours for PCR tests and 20 to 30 minutes for RDTs in the "My Requests" section of each user account.
As a citizen, you have the option to download your health pass, which indicates your most recent Covid-19 status (vaccination status and last test result) and allows access to places with restrictions or air travel, for example.
For more information, visit the official page
Vanessa Ntoh