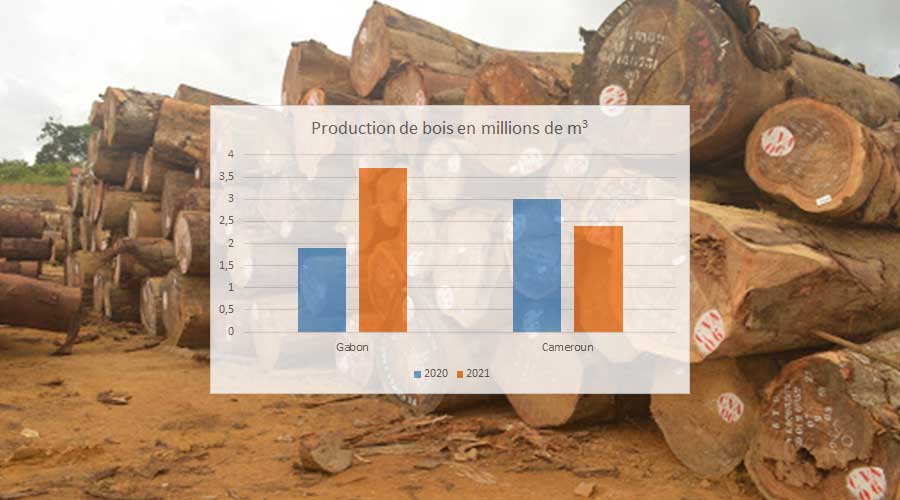 Logging : in 2021, timber production increased in Gabon and decreased in Cameroon
According to data from the French Treasury, timber production has doubled in Gabon over the past nine years. It has increased from 1.9 million m3 in 2012 to nearly 3.7 million in 2021.
These statistics put Gabon at the top of the list of the largest timber producing countries in the Cemac zone in 2021. It totals 3.7 million m3 against 2.4 million m3 for Cameroon and 2.3 million m3 for Congo.
The development of the Nkok special economic zone and the introduction of measures to ensure the traceability of timber have greatly contributed to the growth of the timber industry in Gabon in recent years. In addition, the ban on exporting timber in the form of logs adopted by H.E. Ali Bongo in 2010 has encouraged the development of secondary and tertiary timber processing.
In Cameroon, on the other hand, there is a decline in activity of 20% between 2018 and 2020. In 2018, production amounted to 3 million. This decline can be explained in part by the Anglophone crisis affecting the North West and South West regions, forcing loggers to suspend or even abandon their activities.
Overall, the timber sector in Central Africa has experienced some growth over the last two decades. Between 1997 and 2007, it produced nearly 8 million m3 of logs per year. According to the Bank of Central African States (BEAC), overall production in the sector will reach 9.2 million m3 in 2021, up 51.6% from 2011.
It plays an important role in the economy of the 10 countries of the COMIFAC area, even if its contribution to national GDP remains low.
Source: COMIFAC - Le Nouveau Gabon
Vanessa Ntoh