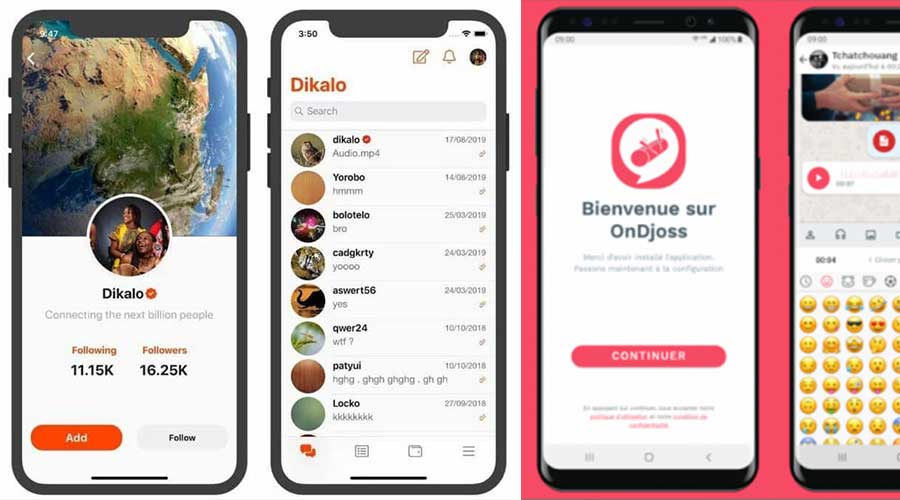 Instant messaging applications: with Whatsapp's terms and conditions sparking debate, it's time to adopt OnDjoss and Dikalo
With the new Whatsapp terms of use, asking users to agree to let the owner Facebook Inc. and its subsidiaries collect user data, including their phone number and location.
Some privacy advocates have questioned the "opt-in or opt-out" decision on Twitter and suggested users switch to applications such as Signal and Telegram.
But we're going to go even further by offering 100% African solutions such as Dikalo and Ondjoss.
"Dikalo focuses on Africa with features and services adapted to the continent and the African audience (stickers, afro emojis, money transfer, e-commerce, etc.). We are authentically African, which Whatsapp will never be. We need to have our own communication tools because our revolution is more ideological than technological," says Alain Ekambi, the platform's Cameroonian inventor.
OnDjoss is a messaging application developed by a young Cameroonian student. It is an African version of WhatsApp but has the particularity of sending large files. As with all other messaging applications that already exist, OnDjoss has voice messages, group discussions and calls.
Improved over WhatsApp, groups on OnDjoss can hold up to 500 people and data protection is part of the DNA, according to the initiators.
Download and install Dikalo Messenger or OnDjoss for secure African communication.