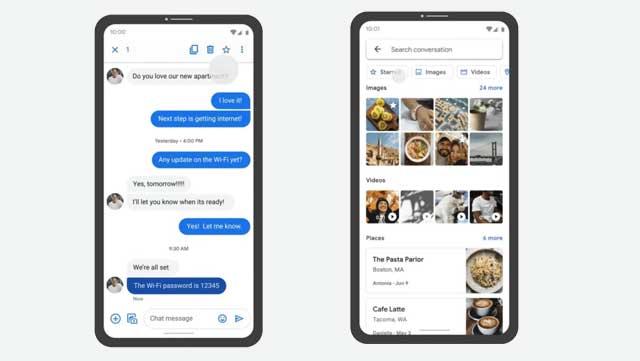 Google Messages competes with messaging apps on Android phones
Google Messages is getting better every month, taking advantage of RCS technology to add new features. The next one will add the ability to create encrypted groups of up to 100 people.
Long gone are the days when Google Messages was just an archaic SMS application. With the RCS standard, new possibilities are opened up to users. For example, it will soon be possible to create groups with 100 people.
This future update, spotted by the site 9to5Google, will make it possible to drastically increase the number of participants in an encrypted discussion. Google had originally planned for groups with a maximum of 21 members, but in the end this limit was raised to 100.
Google Messages is slowly being transformed by RCS
As a result, Google Messages is becoming the ultimate messaging application as it is updated. The move from SMS to RCS allows for many things, such as easier sending of photos, videos, files, Gifs, dynamic reactions to texts and the ability to create multi-party conversations. What's more, the application is fully encrypted to protect the sweet words you can send to your contacts.
Messages is now a direct competitor to services such as WhatsApp, Signal and Telegram. It has a major advantage: it is pre-installed on all Android smartphones and is designated as the default texting software. For the time being, the functionality concerning groups of 100 people is still in beta phase. If Mountain View is happy with the result, we will no doubt see it in our phones in the coming weeks. However, some users already have access to this new feature.
As a reminder, the democratisation of RCS has been one of Google's priorities in recent years. The more modern and fluid protocol has been used by Messages for some time now. Apple, on the other hand, is still reluctant to jump on the bandwagon for security reasons, which does not fail to attract spikes from Google from time to time.


Source : www.androidphone.com
Les commentaires
---