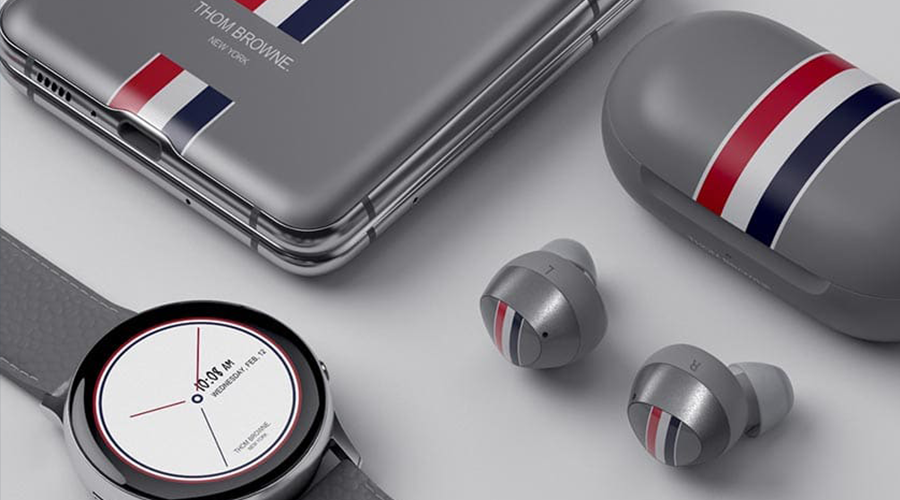 Galaxy Z Flip : Samsung to launch Thom Browne Special Edition in France
The Galaxy Z Flip special edition Thom Browne will be well marketed in France. This luxury variant in the colours of the famous American ready-to-wear brand is accompanied by several Samsung accessories, including the Galaxy Buds+ or the Galaxy Watch Active 2.
At the Unpacked conference on February 11th, Samsung unveiled the Galaxy Z Flip, its first folding smartphone with a flap. In the wake of the presentation, the South Korean manufacturer announced the arrival of a special edition developed in partnership with American designer Thom Browne. The man is also the founder of a clothing brand based in New York. Called Galaxy Z Flip Thom Browne Edition, this high-end variant proudly displays the brand's colors on the back: blue, white and red.
On February 14, Samsung launched the special edition on the US market for $2,480, compared to only $1,380 for the classic Galaxy Z Flip. Fortunately, the edition does not only justify its high price by its design inspired by Thom Browne. The foldable smartphone comes with a pair of Galaxy Buds+, Samsung's new wireless headphones, a Galaxy Watch Active 2, the brand's latest connected watch, and a luxury leather case. Unsurprisingly, all these accessories are stamped Thom Browne and proudly wear the designer's flagship colours.
According to our colleagues at SamMobile, Samsung has announced the release of the Galaxy Z Flip Thom Browne Edition in several other countries. The edition will be available on Samsung's official website in the following countries: France, China, UK, South Korea, Japan, Italy and Hong Kong. In Europe, the edition is expected to be offered at around 2,400 euros. Samsung France has not yet revealed the price list for the variant and its exact release date. We will tell you more as soon as possible.
Source: phonandroid.com