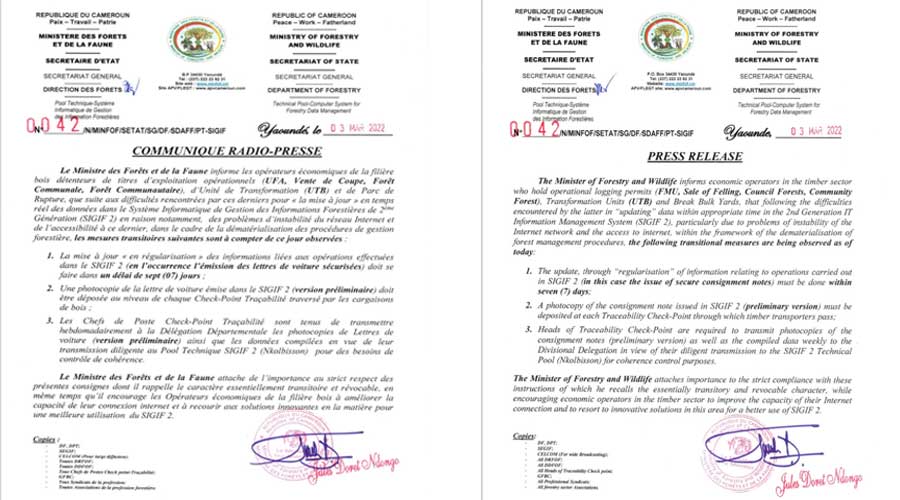 Forestry traceability in Cameroon: Problems with Sigif 2 cause disruptions in the monitoring of activities
Sigif 2, a national monitoring tool for forestry activity in Cameroon, is experiencing a problem with data updates caused mainly by the instability of the Internet network.
In a press release dated March 3, Jules Doret Ndongo, Minister of Forests and Wildlife (Minfof), announced that temporary solutions have been defined to overcome the difficulties observed:
- the issuance of secure waybills within seven days: operators must declare the various goods transport operations carried out. This declaration consists of recording the data in the application in order to generate the consignment note;
-The operators must then deposit a photocopy of the consignment note generated in the application in the "Traceability" checkpoints located on the route ;
-These consignment notes must then be transmitted each week by the checkpoint managers to the Sigif 2 technical pool in Nkolbisson (Yaoundé), for control purposes.
Commonly known as Sigif 2, the 2nd generation Computerized Forest Information Management System was created to facilitate the process of reporting data to the Ministry of Forests and Fauna. Companies will officially begin using it on April 1, 2021, the date of the software's launch.
This software, financed by the German Cooperation and the European Union (EU), was developed with a view to tracking the timber circuit from source (forest) to processing points. It allows for an accurate estimate of revenues from forestry taxes and therefore promotes an increase in forestry-related revenues.
This "breakdown" of Sigif 2 could once again plunge the administration and companies into a dead end if nothing is done, given the corruption that has plagued this sector of the Cameroonian economy for many years. Moreover, it brings back to the forefront the challenges that this application has been subject to. Indeed, the German cooperation and the EU through funding agencies such as KfW and GIZ considered that the application did not comply with the specifications in November 2018.
Vanessa Ntoh