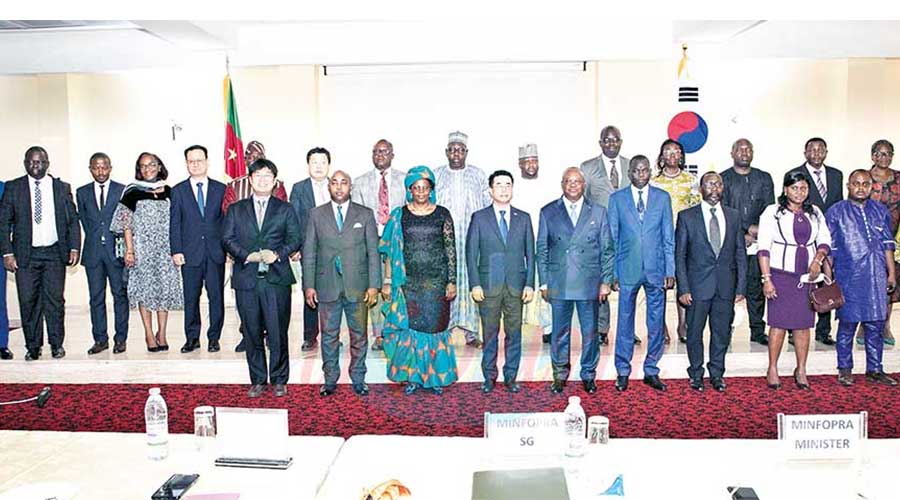 E-governance : South Korea will invest CFAF 4 billion in building digital portals in Cameroon
Three digital portals will be built in the city of Yaoundé and financed by South Korea to the tune of 4 billion to improve the service of public administration.
The Cameroon-Korea forum focused on the topic "Digital governance for administrative reform" has helped to raise awareness of the project to build digital portals in which 4,000 young Cameroonians will be trained each year.
Three pilot sites located in the city of Yaoundé have been chosen to host these centers : the National School of Administration and Magistracy (Enam), the National School of Post, Telecommunications and Information and Communication Technologies (Sup'ptic), and the Higher Institute of Public Management (ISMP).
Organized for the celebration of 60 years of Cameroon-South Korea cooperation, the forum was co-chaired by the Minister of Public Service and Administrative Reform (MINFOPRA) Joseph Lee and the Ambassador of South Korea to Cameroon, Jonghan Kim.
South Korea plans to invest CFAF 4 billion in 2022 for the construction of three digital portals in the country. This is specifically to encourage the migration of public service to digital by providing Cameroonian public officials with infrastructure that allows them to evolve in remote work (based on digital tools).
According to Jonghan Kim, South Korea through KOICA (Korea International Cooperation Agency) intends to strengthen the working tools and skills of civil servants to develop digital governance in Cameroon. It's in this context that a mission was organized in Abuja (Nigeria) from November 17 to 20, funded by the Republic of Korea and including agents of Cameroonian ministerial departments.
To this end, the Minister expressed his deep gratitude to this partner country, which has one of the most successful e-governance systems in the world.
Source : Cameroon Tribune