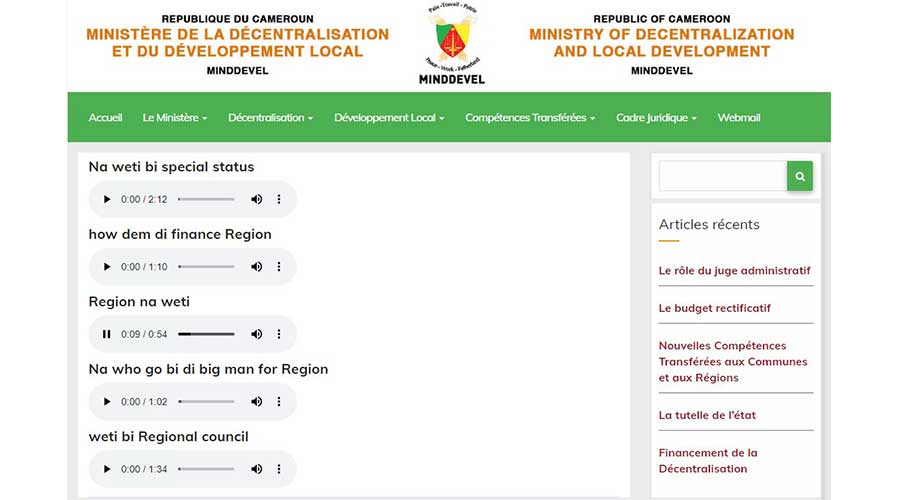 Cameroon: Pidgin content on the website of the Ministry of Decentralization to better explain the role of the regions
The first regional elections in Cameroon will be held this December 2020. In order to facilitate the understanding of this reform which has been awaited for several years and to make the population better understand the role of the regions, the Ministry of Decentralization and Local Development has set up its website (https://www.minddevel.gov.cm/) and created a special page on this website called Regions.
On this page, in addition to the contents in text and PDF, audio-visual contents in Pidgin are accessible to better explain to the populations (mainly those of the North-West and South-West where Pidgin is spoken by the greatest number) the importance of decentralisation and the role of the regions.
For example, there are the texts of laws governing decentralisation, content to understand how the regions function, the new competences transferred to the communes and regions, the financing of decentralisation and many other resources necessary to understand the process of reform of the Cameroonian administration with decentralisation....
For Manyanye Paul IKOME, the head of the Communication and Public Relations Division of Minddevel, the choice of the Pidgin language is crucial because when creating content for all Cameroonians and also targeting the populations of the North West and South West Regions where English is more spoken, it is good to express oneself in a way that is understandable to the target populations who speak much more Pidgin.
Source: digitalbusiness.africa