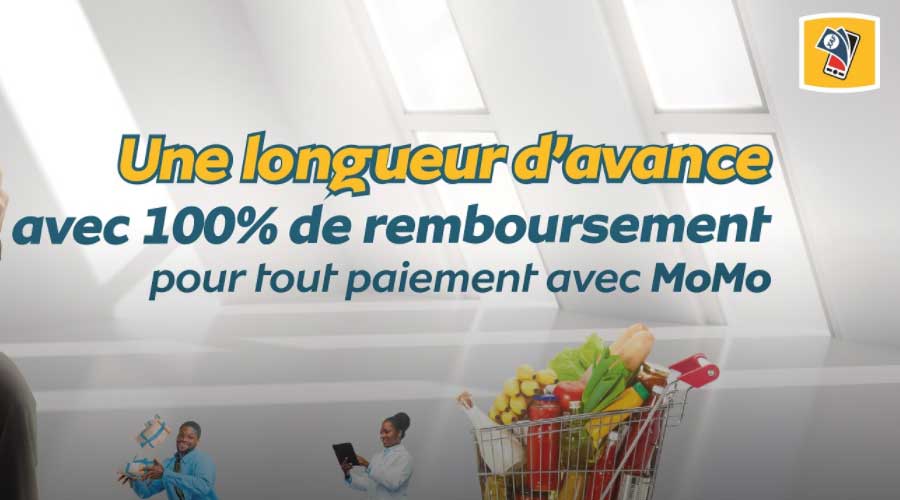 Cameroon: MTN customers get 100% refund for all MoMo payments
Mobile Money Corporation is pleased to announce the launch of its new campaign called "MoMo Pay", which rewards all payments made from the MTN MoMo account.
MTN Cameroon subscribers with an active MTN MoMo account who have made a payment via MTN MoMo of at least 100 CFA francs, will be able to benefit from this promotion which runs from August 10 to October 31, 2021.
In practice, all payments of a minimum amount of 100 CFA francs made between 05:00 and 22:00 will be refunded at 100%, either in call credit to MTN, or in cash, or in internet bonus.
To win cash prizes that can go up to 50,000 CFA francs, the MTN MoMo subscriber must simply make a payment via MoMo of at least 5,000 CFA francs. A winner will be chosen every 30 minutes from 08H to 22H. Winners reimbursed in MTN calls and free Internet will receive the full amount of their payment capped at 10,000 FCFA per reimbursement. To do so, they will have to activate their bonus by typing the code *160#.
The "MoMo Pay" promo is in line with MTN Cameroon's vision and allows it to keep its promise of making the lives of its subscribers brighter and brighter, with simple, accessible and secure services, for more satisfaction. It is accompanied by an innovation that is the payment through the MTN MoMo application at merchants with an exceptional customer experience. To do this, customers will need to download the MTN MoMo app while merchants will download the MoMo Merchant app, available on Playstore and Appstore.
"With more than 10 million subscribers with a mobile money account, these innovations contribute to reinforce MTN MoMo's position as the leader of the Merchant ecosystem, and the most secure payment method in Cameroon," said Alain Nono, Managing Director of Mobile Money Corporation.
The "MoMo Pay" promo is valid for payments in high schools, colleges, universities, MTN Agencies, Eneo, Canal+, CNPS, taxes, insurance premiums at Activa, SUNU, Prudential Beneficial, online payments, as well as at over 125,000 active merchant points.
The MTN Mobile Money e-wallet has been operational in Cameroon for more than 11 years now and allows millions of users to send and withdraw money, receive money from abroad, pay their bills free of charge in shops and pay for various goods and services.
With more than 60,000 active top-up points and 125,000 active merchants accepting payment by MTN MoMo, it is a total of more than 185,000 access points across the 10 regions of the country and the largest distribution network in Cameroon. It is also the most secure mobile money platform, with the first and only GSMA certification in the Cemac zone.
Source: digitalbusiness.africa