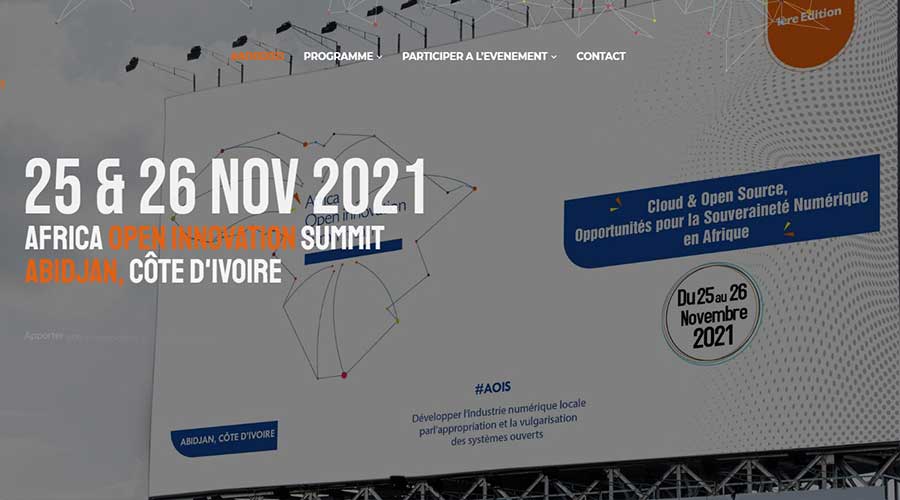 Abidjan will host in November 2021 the Africa Open Innovation Summit, an event that will bring together decision makers and IT professionals
The economic capital of Côte d'Ivoire is hosting the first edition of the Africa Open Innovation Summit (AOIS), a trade show to be held on November 25 and 26, 2021.
Organized under the theme "Cloud and open source, opportunities for digital sovereignty in Africa", this show is set up to promote technological innovation that induce cloud solutions and open systems. It aims to highlight the strong potential and impact of this innovation at the African level on the growth of current companies and nations of the continent.
This initiative is based on the observation that digital technology and particularly the Internet has revolutionized the way companies and states operate. It has induced changes in their organization, jobs, products among others and created new needs among consumers (the public). As a result, companies that were once closed in on themselves are now turning to external players to innovate.
You have developed an innovative web solution or software? You are a start-up specialized in the IT field? ICTINA, the marketing consultancy that structures this project, offers you the opportunity to showcase your genius during this exhibition. In addition, public administrations, SMEs in the telecommunications sector among others are also invited to this summit.
In total, nearly 5,000 visitors are expected to attend from about 20 organizations during the two days of the exhibition. As a program, plenary sessions are planned around the central theme of the event, technical workshops, strategic workshops called "side events". In addition to presenting demos of their products or services, companies will have the opportunity to make business meetings in person, in spaces provided for this purpose, or online.
To participate in Africa's largest Cloud & Open Source Summit as a sponsor, panelist or visitor, visit https://open-innovation.africa.