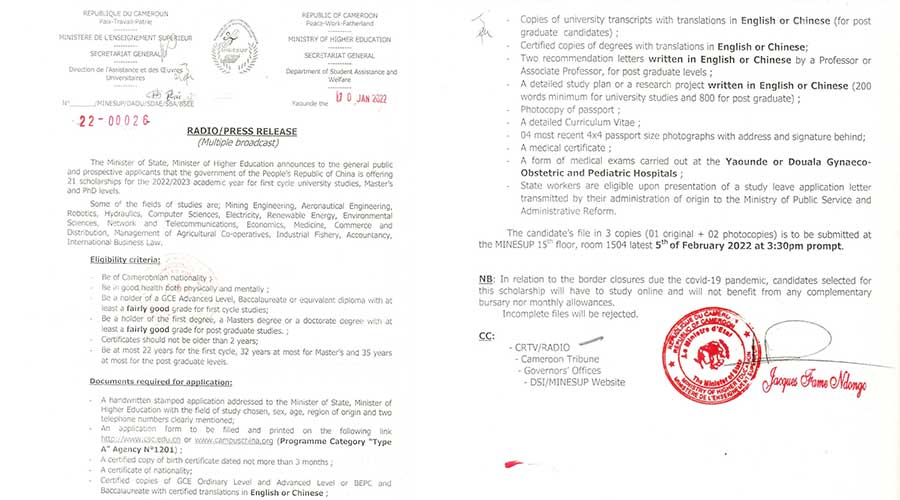 21 Chinese scholarships available online for Cameroonian students
The China-Cameroon cooperation, which is more than 50 years old, is actively deployed in the education sector through training scholarships offered regularly to Cameroonian students.
According to a press release signed by the Minister of Higher Education dated January 10, 2022, the People's Republic of China is making available to the Cameroonian government twenty-one scholarships for university studies (bachelor) and post-graduate studies (master and doctorate).
The proposed fields of study include: mining engineering, aeronautical engineering, robotics, hydraulics, computer science, electricity, renewable energy, environmental science, networks and telecommunications, economics, medicine, trade and distribution, management of agricultural cooperatives, industrial fishing and international trade.
Depending on the field of study, successful candidates will take online courses in English and/or Chinese.
Eligibility Criteria
To be eligible, all candidates must :
- Be of Cameroonian nationality,
- Be in perfect physical and mental health,
- Hold a bachelor's degree, a GCE/AL or any other equivalent diploma with honors for undergraduate studies,
- Hold a bachelor's degree, master's degree or doctorate with at least honors for post-graduate studies,
- Have diplomas with at least 2 years of seniority,
- To be 22 years old at the most for the university studies and 35 years old at the most for the master and doctorate.
The applications, consisting of a handwritten request addressed to the Minister of Higher Education and a form, must be submitted to the Ministry of Higher Education no later than February 5, 2022. The form to be filled out is available on the website www.campuschina.org or www.csc.edu.cn/studyinchina