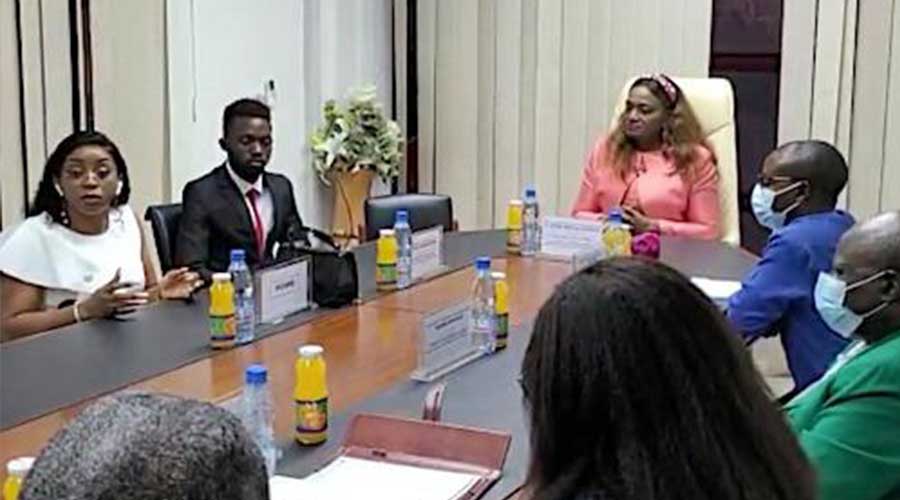 ART honors a genius "Seeds for the future" of Huawei, designer of a humanoid robot
Edouard Yannick MEKONGO ABANDA, a former beneficiary of the Chinese digital giant's program, was received in audience on July 12 by the President of the Telecommunications Regulatory Agency's Board of Directors.
It is a new recognition of the contribution of Huawei in the detection and development of geniuses that was made on July 12 in Yaounde by the President of the Board of Directors (PCA) of the Telecommunications Regulatory Agency (ART). The PCA Justine Diffo received in audience at the headquarters of the Agency, the young Edouard Yannick Mekongo Abanda, designer of the humanoid robot "Pi Car B Mars Rover" which can perform surgery remotely, facial recognition of people and objects, the control of drones and the issuance of alerts from ultra-sound.
A feat achieved through training received by Huawei, through its program "Seeds for the future" of which Edouard Yannick Mekongo Abanda was a winner in 2017. "I would like to congratulate this young man for his invention, and for his determination to contribute in his own way to the development of our country with Cameroonian Label solutions" said Justine Diffo. She encouraged the young inventor "not to stop there". An opportunity for ART to "thank Huawei who has not abandoned his former Seed, (and) continues to follow and accompany him.
At Huawei Cameroon, we are no less honored. The recognition of the fruits of the program "Seeds for the future" was an opportunity for Edmonde Teboh Djiokeng, Director of Public Relations of Huawei CEMAC zone, to recall the rationale of this initiative. "The philosophy of Huawei Cameroon is to participate and accompany the strategy of the government of Cameroon in the transfer of ICT know-how to young students so that they are more competent on the international labor market, as well as the demand of employers of large companies and also the possibility of independent work as start-ups, "she said.
Through partner universities in Cameroon, Huawei accompanies the development of digital. Since 2016, the Chinese firm, No. 1 in the world in the development of digital technologies, has set up an annual program "Seeds for the future", which allows young students to receive training in this field, with a study trip to China at the end. In 2020, the fifth class of this program had 40 winners. It should be recalled that Huawei is present in Cameroon since 2005.
Source : investiraucameroun.com